Just in time for summer….
Swimming For Quitters: Learn How To Swim Calm, Smooth & Relaxed.
I released this learn to swim guide because even when I "learned to swim" in high school, I learned the hard way that I hadn't. Most group swim lessons and even some private ones focus too much on kicking. Every time I hear "kick, kick, kick," I get annoyed and upset. Why? Because I know that isn't the best way to learn to swim.
Most beginning swimmers have a weak flutter kick due to limited flexibility in the foot and ankle, so they don't generate much momentum with their kick. And the flutter kick is a tiring kick when you try to perform it as fast as you can.
With all that effort and energy expenditure, there's also little movement. Needless to say, I don't focus on flutter kicking much in my guide. I do explain that it's needed more for twisting the body than for propulsion.
This guide is for anyone who has tried to learn how to swim and failed. I discovered the hard way that just because I could swim one length of the pool, that didn't really mean I knew how to swim. Don't learn the hard way like I did.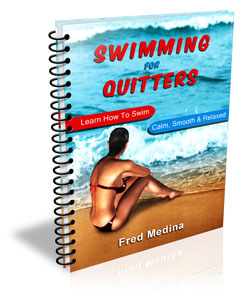 Swimming For Quitters: Click Here