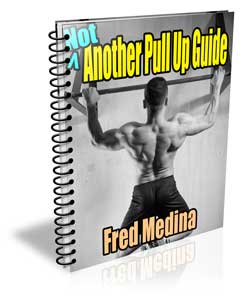 Have you tried to perform pullups, but have never been able to? Do the pullups you perform look more like a seizure versus strength training? If so, I've devised a simple guide that will show you how to progress using workout bands. By the time you complete it you should be able to perform at least 8 full pullups.
In this guide I will show you what you need and include a pullup guide chart showing you the amount of band resistance and weight combinations to use. It will also tell you when to progress to a different amount of band resistance or weight.
Now, I'm not going to tell you that you can do pullups using a narrow, standard or wide grip. Or give you different types of workouts to perform. What I am going to show you is how using workout bands you can eventually progress to the point of not needing them and where you can do full pullups with no assistance at all.
I created this guide for myself after trying other methods and failing. While it took time to achieve my goal, I did achieve it. Now I want to share that information with all of you. This isn't a get there quick program. You most likely won't get to the end of it in 30 days like other guides promise, but fail to deliver. If you work this guide and be patient, the gains will come.
Warning: You will need to invest in a few items in order to correctly use this guide. If you aren't willing to invest and acquire them, please do not purchase this guide as they are required.
I will go into detail in the guide, but you will need a strong and sturdy pullup bar, Bodylastics bands, some paracord, a backpack and some make shift weights in specific increments (either weight plates, books, cans, etc).